Immustem – One Time Purchase – 60 / 120 capsules
Rebuild and rebalance the immune system; promotes gut health.
Great for us and great for pets too!
Our 100% organic Colostrum is sourced directly from a small cooperative of certified organic hill farms in the UK.
AS FEATURED IN THE NATIONAL PRESS
Daily Mirror, Daily Express – READ HERE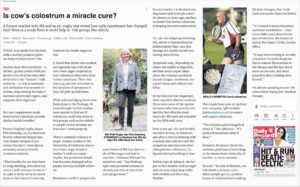 WE SCORE 4.79 / 5 ∗∗∗∗∗
INDEPENDENTLY VERIFIED REVIEWS
WHAT OUR CUSTOMERS SAY 
Dr Tania Pilley – Review independently verified by Reviews.io ∗∗∗∗∗
Igbioscience – brilliant product. I recommend it to my patients to help optimise their gut health. There is a wealth of research evidence that demonstrates it efficacy for improving the gut microbiome which in turn improves every aspect of health.
Karen Sott
– Review independently verified by Reviews.io

∗

∗

∗

∗

∗
"

I have secondary progressive Multiple Sclerosis and have been taking Immustem organic colostrum for around 6 months. Although there hasn't been any dramatic effects, I have definitely experienced improvement in my balance, walking and general sense of wellbeing. I have Rosacea and my skin has improved and I've also noticed that my hair is thicker and in better condition. I would absolutely recommend giving Immustem a try."
Cheryl Grey
– Review independently verified by Reviews.io
∗∗∗∗∗
"
I have MS, and I have dogs with autoimmune diseases. After just 2 month use, I have found an increase in my energy levels, feeling in my feet for the 1st time in years, and skin not so dry & itchy. My GSD has DM (the canine version of MS), and has gone from bladder/bowel accidents every other day, to not having any in 2 weeks now. My greyhound has pannus, an eye disease that causes blindness by 'growing' over the cornea – his eyes are slowly clearing! I am looking forward to discovering what benefits we get from long-term use
IMMUSTEM
120 vegetarian capsules containing pure organic colostrum.
Improve gut health
Boost immune system
Boost body repair functions
IgBioscience is committed to sourcing the finest quality natural products scientifically tested by independent peer review research. There are more than 70,000 independent research papers on Colostrum.
Immustem is produced from pasture-fed organic herds. Our cows are not given hormones or antibiotics or exposed to pesticides, heavy metals or other chemicals.
Immustem is pasteurised and spray-dried at low temperatures. This maintains its delicate molecular structure.
Only surplus milk is used after calves' needs are met.
Directions For Use
Take 2 capsules first thing in the morning before breakfast on an empty stomach with water. Do not eat until 30 minutes after taking.
After illness or injury take 2 capsules twice daily.
Not suitable for children under 24 months unless under medical supervision.
Per 100g: Immunoglobins lgG >22g, lgA 2.5g, lgM 1.2g, lgD 0.2g, lgE 0.1g, protein rich polypeptides 4g, lGF-1 2.3 Micrograms/g, Per 100g: Calcium 250mg, Magnesium 400mg, Chromium 40mg.Each capsule contains approx 500mg of 100% pure organic Colostrum.
Food supplement. Not a substitute for a varied and balanced diet.
Additional information
| | |
| --- | --- |
| Weight | 250 g |
| Brand | Igbioscience |
| GTIN | IgTumeric+ – One Time Purchase |
| Size | 60 Capsules, 120 Capsules |