Immustem – One Time Purchase – 60 / 120 capsules
£24.95 – £44.95
Rebuild and rebalance the immune system; promotes gut health.
Great for us and great for pets too!
Our 100% organic Colostrum is sourced directly from a small cooperative of certified organic hill farms in the UK.
AS FEATURED IN THE NATIONAL PRESS
Daily Mirror, Daily Express – READ HERE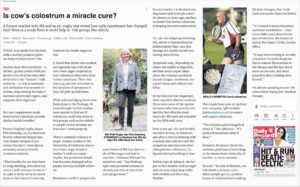 WE SCORE 4.79 / 5 ∗∗∗∗∗
INDEPENDENTLY VERIFIED REVIEWS
WHAT OUR CUSTOMERS SAY 
Dr Tania Pilley – Review independently verified by Reviews.io ∗∗∗∗∗
Igbioscience – brilliant product. I recommend it to my patients to help optimise their gut health. There is a wealth of research evidence that demonstrates it efficacy for improving the gut microbiome which in turn improves every aspect of health.
Karen Sott
– Review independently verified by Reviews.io

∗

∗

∗

∗

∗
"

I have secondary progressive Multiple Sclerosis and have been taking Immustem organic colostrum for around 6 months. Although there hasn't been any dramatic effects, I have definitely experienced improvement in my balance, walking and general sense of wellbeing. I have Rosacea and my skin has improved and I've also noticed that my hair is thicker and in better condition. I would absolutely recommend giving Immustem a try."
Cheryl Grey
– Review independently verified by Reviews.io
∗∗∗∗∗
"
I have MS, and I have dogs with autoimmune diseases. After just 2 month use, I have found an increase in my energy levels, feeling in my feet for the 1st time in years, and skin not so dry & itchy. My GSD has DM (the canine version of MS), and has gone from bladder/bowel accidents every other day, to not having any in 2 weeks now. My greyhound has pannus, an eye disease that causes blindness by 'growing' over the cornea – his eyes are slowly clearing! I am looking forward to discovering what benefits we get from long-term use
IMMUSTEM
120 vegetarian capsules containing pure organic colostrum.
Improve gut health
Boost immune system
Boost body repair functions
Description
2 MONTH SUPPLY
A PERFCT COMBINATION OF POWERFUL IMMUNE SUPPORTING VITAMINS AND NATURAL PLANT EXTRACTS
The star of the show here is the Liposomal Vitamin C – a nanotechnology developed by Pfizer and Moderna that delivers the Vitamin C directly into the cells, massively increasing its bioeffectiveness. Of all the Vitamins this is one of the most important for our immune system and the one most difficult to absorb with a high degree of wastage – until now.
Some extraordinary independently verified reviews on the website.
SAVE WHEN YOU SUBSCRIBE
WAS
NOW
POSTAGE

EVERY 2 MONTHS

£29.95

Was

£5 

Now FREE

Save £5

EVERY 4 MONTHS

£59.90

£54.90

Was

£5 

Now FREE

Save £10

EVERY 6 MONTHS

£89.95

£74.85

Was

£5

Now FREE

Save £20

EVERY 12 MONTHS

£179.70

£144.70

Was

£5

Now FREE

Save £40
SAVE up to £40 INCLUDING FREE POSTAGE
Join our subscription service  and SAVE UP TO £40 OFF to receive a regular 2 month supply of our unique Liposomal Vitamin C, Vitamin D3, A and Zinc with Elderberry and Lions Mane extracts.
THERE IS NO PRODUCT LIKE THIS ON THE MARKET. BESPOKE DESIGNED FOR IMMUNE SUPPORT
A highly speciliased formulation unique to Ig Bioscience combining the best of natural remedies, Liposomal nanotechnology, immune function specific vitamins and natural plant and mushroom extracts.
Designed for maximum immune support and cellular health.
The star of the show here is the Liposomal Vitamin C with maximal bioavailability using lipid nanotechnology developed by Pfizer and Moderna, coating the vitamin C in a lipid bubble that delivers it fast and directly into the cells with no wastage.
Liposomal Vitamin C
The real key in here is the Liposomal Vitamin C - this Vitamin C coated in a lipid fat that delivers it direct to the cells. These are the lipids used by Covid vaccine manufacturers to deliver the vaccine into the cells. It's a unique and cutting edge delivery technology. Vitamin C is not produced by the body so this an immense boost to your body' defences. It's essential for all cell processes and repair and the normal functioning of the immune system. Detailed information on Vitamin C and how it works can be found in the SCIENCE pages of our website.
Vitamin D3
According to the Journal of Investigative Medicine 2012, Vitamin D plays a key role in modulating and adapting the immune response. Primarily synthesised by our bodies from sunlight, something in short supply in UK.
Recommended by HM Government during Covid to help support our immune function.
Elderberry Extract
Used for 1000's of years to fight fever and infection. Hippocrates called Elderberry his "medicine chest". Packed with antioxidants and Vitamins. Elderflower - Sambucus Nigra - has been shown in a study published in the European Cytokine Network 2001 to be effective against at least 10 strains of influenza virus by stimulating the production of Cytokines - the messenger molecules used by the immune system. These coordinate the immune response - they tell it when a pathogen is detected, they turn the immune response on and crucially they turn it off once the threat has been dealt with. Those Old Wives Tales must have some truth in them.
Lions Mane Extract
Again, known for 1000's of years for its medicinal benefits. Research shows it boosts the production of the microbiome in the gut which prevent pathogens from entering the body. The gut represents over 70% of the immune system. It has also been shown to increase neural plasticity - the ability of nerve cells to repair. It improves cognition as we get older, and helps repair nerve damage.
Vitamin A
A micronutrient essential for maintaining vision, growth and dvelopment and epithelium and mucus integrity in the body. Its role in the immune system is detailed in a research paper published in the Journal of Clinical Medicine 2018. The paper details how it's closely involved in the regulation of the immune response.
Zinc
According to the National Institute for Health, it helps immune system fight off invading bacteria and viruses. It's also crucial for the manufacture of proteins and DNA. It's crucial for the normal functioning of cells and affects multiple aspects of our immune system. Muc of the research on Zinc has focussed on what hppens when people have a zinc deficiency, as in this paper published in theJournal of Molecular Medicine 2008.
This is a unique product with a careful blend of natural Elderflower and Lions Mane mushroom extract both known for their antiviral, antioxidant and immune system boosting properties.
For many of these Vitamins and minerals, it takes at least month for them to start to change levels in our blood serum. Consistency and regularity is key to your regime.
Additional information
| | |
| --- | --- |
| Billing Period | 2 months, 4 months, 6 months-most popular, 12 months |
| Brand | Igbioscience |
| GTIN | Vitamin D3 Complex – Subscription |
Additional information
| | |
| --- | --- |
| Weight | 250 g |
| Brand | Igbioscience |
| GTIN | IgTumeric+ – One Time Purchase |
| Size | 60 Capsules, 120 Capsules |